Those of us who have worked in silviculture know it as an industry that cultivates a unique and incredibly valuable combination of skills. Consider the conditions; unpredictable forces of nature, physical, emotional and mental fatigue and stress, community dynamics, logistics, remote locations and the repetitive nature of the work. Those who thrive in this environment may move up to management positions or develop their own contracting companies. Others pursue new endeavours, but all have developed a gamut of skills and experience increasingly recognized as contributing incredible value.
The next article is the first in a series that looks at amazing people of our ilk who showcase the true value of skills and experience developed over years in reforestation work. We explore and celebrate their remarkable capabilities and the diverse ways in which their experience in reforestation ultimately contributed to new and interesting directions in their lives and work.
Planting for Pemba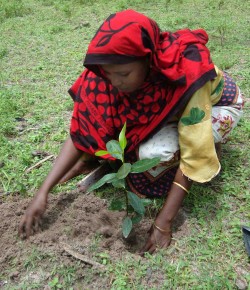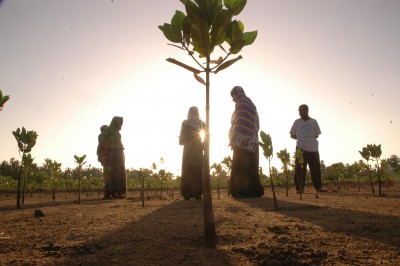 L-R: Woman plants a mango tree near Tundaua, Pemba, 2008; Community members inspect their recent plantings of mangroves near Wete, Pemba. Mangroves are planted to help prevent erosion in inter-tidal zones and create rich
habitat for many fish species. 2010
Very few people have ever spent a season planting trees in the clear-cut swamps, rock cap, and mountains of our vast Canadian landscape. If they did, they would likely find it somewhat horrifying. After four planting seasons, I have become accustomed to working in remote areas, among tangles of broken sticks and swarms of blackflies. I earned good money and likely injured my body beyond repair, but the thing that kept me coming back was the people. In tree planting camps it's cliché to indulge this sentiment, but for most planters, it rings true. A friend and fellow tree planter, Laura Neals describes this experience well, "A tree planting camp operates like a community. You live together. You eat together. You work together. It's easy to connect with each other because you all share this common experience. There's a sense when you're tree planting that you're all in it together." I would argue that it is exactly this sense of community that links tree planters across Canada to communities half way around the world.
The story of our organization; Community Forests International, begins in the Spring of 2007, while swapping travel stories around a camp fire and ruminating on the potential for change in the world. A friend and fellow tree planter, Jeff Schnurr , shared his experience of a recent trip to a small, isolated African island called Pemba. Jeff had been living on the island for 6 months before returning to Canada to plant trees. While in Pemba, he made friends with Mbarouk Mussa Omar, a community leader who was working for a small NGO working to preserve endangered coastal regions and provide education on sustainable fishing practices. Being that Pemba is a remote Island with few tourists, Jeff the "tree farmer" had piqued their interest. Mbarouk, along with a group of local fishermen and farmers approached Jeff to help start a tree planting initiative on tracts of degraded land. Jeff was keen to help in any way he could, and began writing proposals and visiting communities, communicating with locals the possibility of growing trees for fruit, fodder and home construction.
When Jeff returned to Canada to plant trees, he shared his experience on the island with myself, and others. A small group of us decided to help, making a pact to dedicate two years of our lives to support Pembans in their efforts.
Pembans had been subsistence farming and fishing since before recorded history and pressure on their resources increased in step with population growth. Today, trees could be planted to stabilize coastlines, to improve soil quality, and provide cover on this intensely hot tropical island. Furthermore, the islanders were importing many staples from the mainland like mango, papaya, and wood poles for home construction, which could be easily grown on the island. What was missing was the initial investment in infrastructure and technical assistance to get communities growing trees.
Our goal was simple enough, start small by helping a handful of villages on the island of Pemba grow trees on community-owned land for economic and environmental benefit. We accomplished this by building low-cost nurseries in seven communities, and hiring Mbarouk and a few local experts to visit villages and provide support.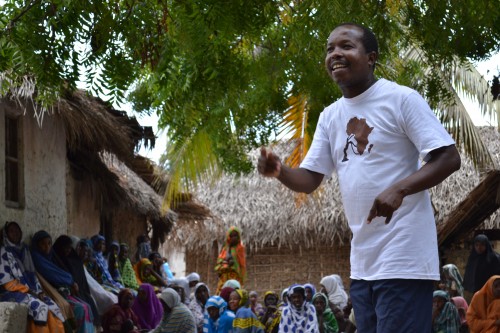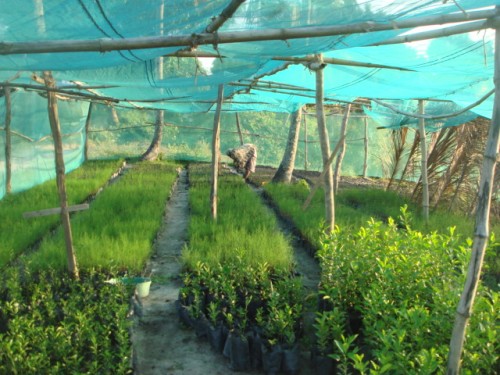 L-R: Mbarouk speaking to villagers on the islet of Kokota about the successes other communities have had planting trees on the main Island of Pemba. 2012 ; One of 14 low-cost nursery that Brinkman and their planters have helped establish on the Island. Pemba, Tanzania 2012


In Canada, news of Pemba spread quickly through the camp, and soon we had organized a fundraiser to help Pemban communities build nurseries and grow their own seedlings. We picked a day where planters could donate a portion of their earnings, in the form of trees, to support the project. We called it "Plant for Pemba" The premise being that for every tree planted in donation, several more would spring up on the island. Laura Neals remembers one fundraising day in particular, "It was my first year crew bossing and we had the most miserable weather. It was a torrential downpour of near-freezing rain. By four o'clock no one could feel their hands, but our day was far from over. Most of the camp planted until eight-thirty that night. It was awful, but no one complained. On that day, everyone got tough. It didn't matter how cold it was. It didn't matter how late it was. Everyone felt like they were a part of something special." Laura donated over 4000 trees that day, the equivalent of about $380 dollars; all the money she had earned. The camp followed her lead and we raised over $6000.
With the help of Brinkman & Associates Reforestation, Laura, and hundreds of other planters, CFI has grown its presence on the island, working alongside thousands of people in 14 communities. To date, Pemban's have planted 35 species of trees and over 700,000 seedlings in total. Communities engaged in these initiatives collect seed from local sources, pack the seedling containers, nurture, grow and then plant the seedlings. What makes this project stand apart is its approach; each community has full ownership and control of their nurseries and the trees they plant. They decide what trees to grow and for what purpose. CFI understands that Pemban's are the experts, and no one is better equipped to innovate long-term solutions than those within the community. By Planting for Pemba, Pemban silvicultural experts are employed and necessary funds are raised to get the projects off the ground, helping create a collaborative partnership that works toward positive social, economic and environmental change on the island. Canadian tree planters and the people of Pemba have shown us that collectively, we have the skills, resources and knowledge to care for the environment and the people who live within it.
If you are a crew boss or supervisor who would like help organizing a Plant for Pemba day, contact Zach Melanson at [email protected]. Also please consider donating to Community Forests International's Pemban projects. For more information please visit CFI at www.forestsintrnational.org and on Facebook, by searching community forests international.