Alien invasions have ignited our imaginations for more than a century. H.G. Wells' 1898 novel "The War of the Worlds" sparked near panic when it was famously adapted into an American radio drama by Orson Welles in the 1930s. It later became one of the first alien invasion films of the 1950s. The popularity of such films continues to the present day, with movie-goers flocking to see films like "Alien", "Independence Day" and "Prometheus," proving our continued fascination with creatures who wreak havoc on our world.
But did you know that alien invaders are a real and increasing threat to our environment, economy and cultural values?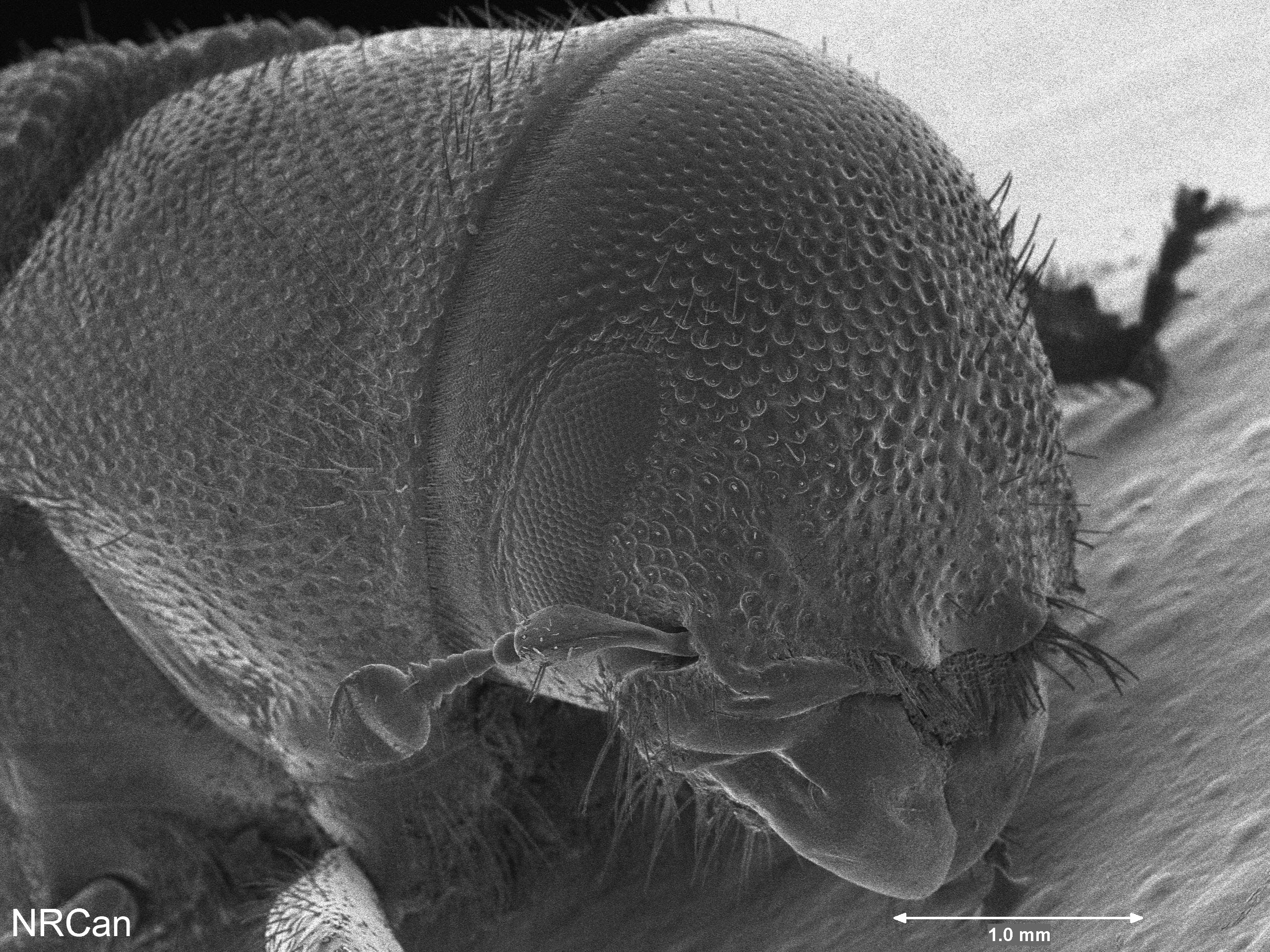 Figure 1
Invasive species, like the red turpentine beetle, are foreign pests
that can thrive in new environments due to a lack of predators.
Invasive species in our forests have decimated whole species of trees, caused millions of dollars of damage and threatened the livelihood of forest workers. The problem has escalated in the last 30 years as the volume of global trade has quadrupled. The value of traded forest products has reached US $200 billion annually as more types of wood products are being exported and more countries are shipping products internationally than ever before.
Foreign pests are imported and exported with the movement of global trade. These alien invaders have resulted in major changes in the composition of forests around the world. For example, the introduction of the red turpentine beetle, a North American insect, resulted in widespread tree mortality in northern China in 1999. More recently, the introduction of the emerald ash borer from Asia to North America has destroyed ash trees and is estimated to cost the U.S. $1 billion per year over the next ten years.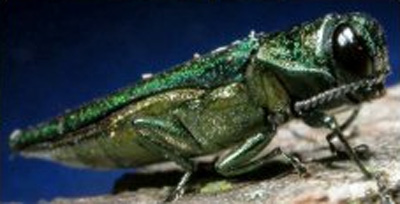 In order to solve the problem of forest pests moving in international trade, we must understand the pathways that they are associated with. Pests move with forest products that are traded as living plants, wood commodities in the form of logs, sawn wood, chips or manufactured products or as wood packaging – pallets, crates, etc. – that other trade goods are shipped on and in.
The damage caused by these alien forest pests can be significant. Each shipment that contains untreated wood packaging material has the potential to introduce a foreign pest into our forests, and these bio-invasions can affect entire forest ecosystems, with subsequent economic impacts. In 1993, the European Union banned the import of untreated and unseasoned sawn wood from North America to prevent the introduction of pinewood nematode to Europe, resulting in a significant drop in sawn wood exports from Canada to western Europe.
So what's being done to keep these alien invaders from catching a free ride to our forests?
Governments around the world recognize the importance of protecting plants from foreign insects and fungi. Following the principles in the International Plant Protection Convention (IPPC), countries work together to create phytosanitary (plant health) standards that provide guidelines for the development of import and export regulations. Canada is a leader in this field, thanks in part to the researchers at Natural Resources Canada who indentify global forestry and quarantine research needs to help develop international standards based on science.
"The IPPC is an international convention that is currently signed by 177 countries. This convention is governed by a commission which has adopted international standards to prevent and to control the introduction and spread of pests of plants and plant products," says Brent Larson, a Canadian working for the FAO as an IPPC Standards Officer.
In order to deal with the pest problems associated with wood packaging, an international standard was adopted in 2002 that has been widely implemented by the trading nations of the world. Many IPPC standards relate to practices in forestry.
"In 2009, the FAO forestry department identified the need to bring together the concepts of the IPPC and the forestry sector to enhance forest health in international trade," says Gillian Allard, Forest Protection and Health Officer of the FAO. A group of international scientists, phytosanitary authorities and forest sector representatives worked together to develop a guide on implementing international standards for phytosanitary measures. Over 100 people from more than 45 countries collaborated on the book, which is now available as a free download on the FAO website.
The team had a strong Canadian representation, and these experts brought their considerable experience in forestry and plant health to the guide.
"The Guide to Implementation of Phytosanitary Standards in Forestry" provides clear, concise guidance to help keep forest pests from spreading around the world," says Gillian. "Produced in six languages, it is aimed at forest sector workers throughout the world who are on the front lines of forest trade."
Forest sector workers involved in all aspects of the trade – growing, planting, managing, harvesting, manufacturing, storing, trading and transporting – can play a key role in preventing the spread of pests. Integrated pest management, a combination of prevention, observation and suppression measures, is the most effective means of dealing with forest pests. In order for this method to work, field staff must be trained to recognize pests.
Do you know which insects and fungi are harmful to our forests? Could you recognize alien insects and fungi in our forests and what would you do if you recognised one?
A large section of the guide is devoted to explaining phytosanitary terms in plain language and to informing readers of the most damaging pests affecting global forests.
"It's important for us to recognize which alien species don't belong in our forests, but it's equally important to ensure that our forest products are free of potentially dangerous pests before we export them," says Adnan Uzunovic, a Canadian expert from FPInnovations who helped author the guide. "Careful observation begins in nurseries and during tree planting and continues in other phases of wood production and export."
Phytosanitary problems can be reduced through monitoring growing stands for early detection of pest problems and choosing appropriate silvicultural, pest protection and harvesting practices (see Silviculture Magazine Spring 2011).
Sections 3.2 to 3.5 of the guide provide helpful guidance on how to prevent the spread of home-grown and alien pests in nurseries, planted forests and naturally regenerated forests. These tips include:
Choosing the most suitable species for a site's soil and climate conditions reduces stress on the plant
Proper cleaning and sanitizing of equipment between sites helps to prevent the spread of pests
Disposing of silviculture wastes from pruning or thinning by following local environmental or waste management regulations
Notifying the Canadian Food Inspection Agency immediately if you find an unknown organism or regulated pest
Did you know? A large variety of pests may move with plants for planting, including: aphids, scale insects, adelgids, bark beetles, weevils and moths; nematodes; foliar, seed, cone, root-rot and canker fungi; pathogenic water moulds; and bacteria, viruses, viroids and phytoplasmas.
The guide represents a strong first step in educating all sectors in forestry about plant health standards and integrating phytosanitary training into forestry schools. Ultimately, the project will result in healthier forests and parks as more people become aware of these invasive species and start taking action.
Information sharing between forestry workers and plant health regulators is already helping to prevent, detect and eradicate new pest outbreaks. A better understanding of the phytosanitary requirements of importing countries will enhance the safe movement of forest products and reduce economic impacts.
Everyone in the forest sector has a part to play in preventing the spread of forest pests. Take the new e-learning training course for forestry personnel on the FAO site at www.fao.org/forestry/foresthealthguide/76169. Talk about forest health with your colleagues. And learn to recognize alien invaders. The future of our forests depends on you.
Dr. Allen leads the Forest Invasive Alien group at Natural Resource Canada's Pacific Forestry Centre, which focuses on a variety of forest health-related issues. He works extensively on non-indigenous species that impact forest ecosystems. He chairs the International Forestry Quarantine Research Group and serves on the North American Plant Protection Organization forestry panel and the International Plant Protection Convention (IPPC) Technical Panel for Forest Quarantine.